Pak Mail awarded the "Franchisees' Choice Designation" 2015 for 5th Consecutive Year!
Niagara Falls, ONTARIO, April 13, 2015 – Pak Mail Canada was honoured as a recipient of the Franchisees' Choice designation on April 13, 2015 during a Gala Awards Presentation at the 24th annual Canadian Franchise Association (CFA) National Convention in Niagara Falls, Ontario. This is the fifth year for the annual Franchisees' Choice designation program and Pak Mail was recognized for its accomplishment in receiving the designation every year since 2011.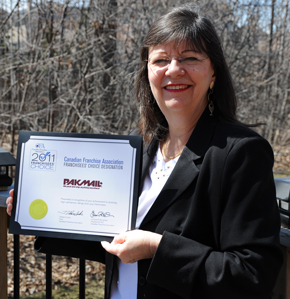 Pak Mail's late President & CEO, Cheryl Kostopoulos, accepts Pak Mail's first CFA Franchisees' Choice Award in 2011.
In the due diligence process of investigating a franchise opportunity, speaking with existing franchisees about the opportunity being explored is essential. For prospective franchisees, the Franchisees' Choice designation identifies that a franchise brand has received solid endorsement and ratings from its franchisees. The 2015 Franchisees' Choice designees are representative of the spectrum of franchise opportunities and the diversity and excellence of CFA members.
"The true strength of a franchise system lies in the mutually-rewarding relationship between a franchisor and its franchisees," says Lorraine McLachlan, CFA President and Chief Executive Officer. "Being a Franchisees' Choice designee is an honour and a vote of confidence because the high rankings in franchisee satisfaction come directly from the franchisees themselves."
Says Pak Mail's Vice-President George Kostopoulos: "This truly is quite a humbling experience when you consider the fact that this recognition is based on the stringent evaluation of the feedback provided by the franchise partners of the Pak Mail franchise system; the very people who place their trust in you along with their hard-earned money, effort and, oftentimes, their future."
Kostopoulos went on to say: "If, at the end of the day, your own franchise partners can readily pay you the highest of compliments, you begin to truly appreciate the importance of the relationship-building approach to franchising to which we, at Pak Mail, are fully committed."

Pak Mail was presented the CFA's 2011 Franchisees' Choice Designation, in its inaugural year, in recognition of its achievement in receiving high satisfaction ratings from its franchisees; a distinction that Kostopoulos takes to heart, particularly since Pak Mail was the only franchisor in its industry to achieve the coveted milestone.
The CFA's Franchisees' Choice Designation award is presented annually to franchisor companies that have achieved high satisfaction ratings from feedback provided by the franchise owners in its system, as compiled and analyzed by InfoFeedback, an independent third party organization and have exceeded the stringent requirements of the CFA Award of Excellence in Franchising competition.
Pak Mail, a long term member in good standing of the Canadian Franchise Association, has long championed ethical business practices in franchising and prides itself on its commitment to building lasting relationships with its customers, vendors and franchise partners alike.
About the Franchisees' Choice Designation
The Franchisees' Choice designation, presented annually by the Canadian Franchise Association (CFA), is awarded to CFA member franchise systems for their solid rankings in franchisee satisfaction. These franchise systems take part in an independently-administered survey, wherein franchisees are asked to rate the franchisor in key areas of the franchise business model, such as franchisee selection process, information package, leadership, business planning and marketing, training and support, ongoing operations, and the relationship between franchisor and franchisee.
"Being a Franchisees' Choice designee is a high honour," says Graham Cooke, Chair of the CFA Board of Directors and Vice President of New Restaurant Expansion, A&W Food Services of Canada. "Because the program is voluntary, these franchise systems are to be commended for wanting to further examine the strength of the relationships they have with their franchisees and they are rightfully proud of achieving this designation."
Back to Awards