Pak Mail's Cheryl Kostopoulos awarded the Vince Nichols Memorial Award
MONT TREMBLANT, QUEBEC, May 4, 2010 – With hundreds of franchise business leaders in attendance and many hours of educational programming on the agenda, the Canadian Franchise Association's (CFA) Annual Convention, held in picturesque Mont Tremblant, was declared a successful event by attendees.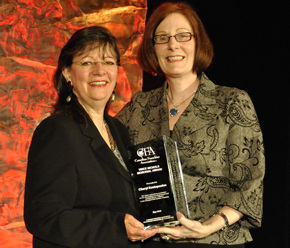 Says Pak Mail's President & C.E.O., Cheryl Kostopoulos: "The CFA has once again brought together franchisors of all stripes from across Canada for 3 days of educational programming and think-tank sessions from which, even seasoned veterans like myself, can take away valuable information and ideas that can be implemented to improve their systems. A successful event indeed."
Kostopoulos was awarded the Vince Nichols Memorial Award for her tireless efforts to promote ethical, successful franchising in Canada.
Presented in memory of Vince Nichols, the Vince Nichols Memorial Award is given to an individual who, through their volunteer activities and work as an ambassador for franchising, helps the CFA grow, evolve and deliver on its mission and vision. Vince Nichols was the Director of Franchising for Maple Leaf Mills and was a dedicated volunteer with the CFA.
Kostopoulos is a long-standing and active member of the CFA with a long history of volunteering, which includes serving on the CFA Board as a Director for many years, being elected Chair of the Board of Directors of the CFA for two consecutive terms, serving on numerous committees and chairing the CFA Award of Excellence in Franchising committee since its inception. "Cheryl's dedication to advancing the CFA's mission of promoting excellence and growth in franchising is one of her passions", says Lorraine McLachlan, President of the CFA. "She has worked tirelessly to champion the growth of the Award of Excellence in Franchising Program and has demonstrated her strong commitment to helping all franchisors understand the value it can bring to their systems", McLachlan adds.
With over three decades of franchising experience behind her and active with the CFA since she first entered franchising, Kostopoulos has clearly proven that one can juggle running their own successful business and a growing family, while maintaining ethical standards that can stand up to careful scrutiny. A well-deserved recognition indeed!
Back to Awards